DATE:

AUTHOR:

ResellerRatings Release Team
ResellerRatings.com
Weekly Update
ResellerRatings to ShopperStream
DATE:
AUTHOR: ResellerRatings Release Team
Hello ShopperStream

A little bit more on our new launch... (First of all if you missed our FIRST announcement)
The first part of that rebranding effort happens today officially - and that's a completely updated / new portal that brings in a few new major additions.
ResellerRatings.com is transforming significantly and has emerged as ShopperStream, bringing a huge evolutionary change to our app. We're now two sites - ResellerRatings for our public-facing site and ShopperStream for our business app. In this blog post, we'll explore what this rebranding means for e-commerce brands and how it aims to create the ultimate hub for ratings and reviews and with a relentless focus on using the Shoppers voice to power your e-commerce brand trust engine (and revenue).
ResellerRatings.com has been a trusted platform for consumers to share their experiences and for e-commerce brands to showcase their customer feedback for many years. Rebranding to ShopperStream represents a strategic step forward in our focus on using UGC to increase your shopper's loyalty, happiness, and sales.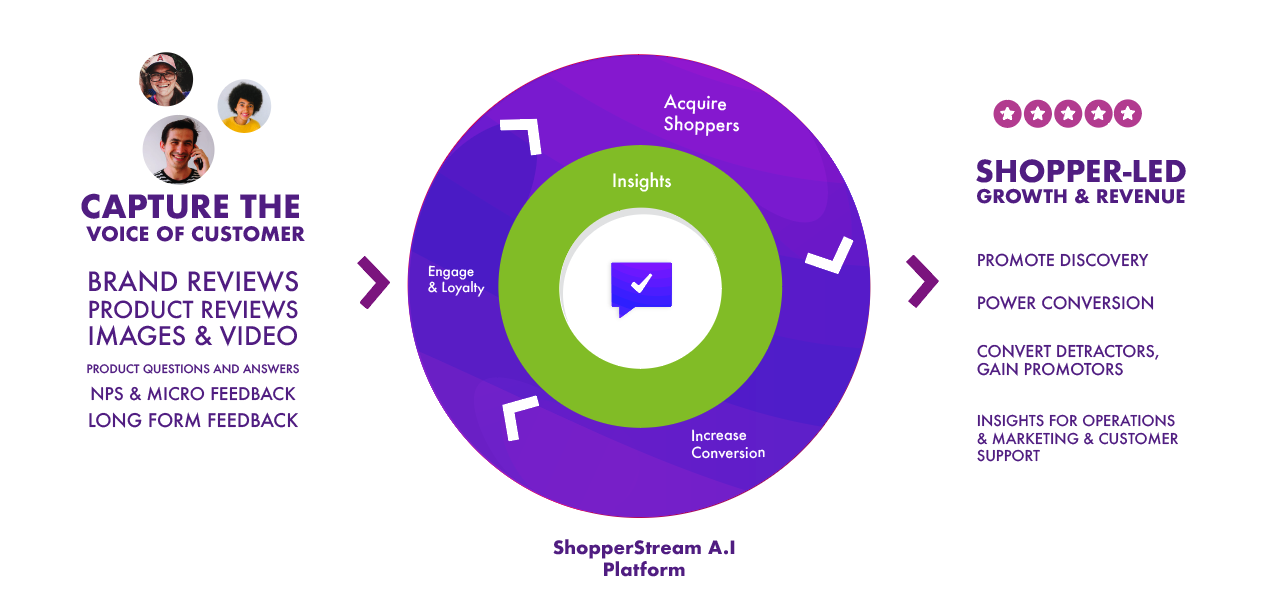 What's New with ShopperStream?
Comprehensive Rating and Review Ecosystem: ShopperStream is a one-stop shop for all things related to ratings and reviews. It consolidates reviews from various sources, including online marketplaces, social media, and the brand's website, into a unified platform with REVIEW TRACKING. This comprehensive approach gives you a holistic view of your brand's reputation.

Advanced Analytics: ShopperStream doesn't stop at gathering reviews; it analyzes them to provide valuable insights to e-commerce brands. These insights help businesses understand customer sentiment, identify trends, and make data-driven decisions to improve their products and services.

AI-Driven Recommendations: ShopperStream employs GENERATIVE AI to provide personalized responses and engagement with your shoppers, insights, and product recommendations to consumers based on their browsing and review-reading behavior. This enhances the shopping experience and increases conversion rates for e-commerce brands.

Hello Video: We are transitioning fast to a video-first reviews company. In a world where text only goes so far, the new winners in the e-commerce landscape will be deploying video reviews and insights directly into their strategic initiatives.
Not to mention almost 150+ new changes to the platform.
Conclusion
The transformation of ResellerRatings.com into ShopperStream marks a significant shift in how e-commerce brands manage and leverage customer ratings and reviews. With its comprehensive review tracking approach, advanced analytics, and AI-driven recommendations, ShopperStream offers a powerful solution to help brands build trust, make data-driven improvements, increase visibility, provide personalized shopping experiences, and gain a competitive edge.
By harnessing the power of ShopperStream, brands can elevate their customer engagement and create lasting connections in the digital world.
Welcome to the future of ratings and reviews in e-commerce - welcome to ShopperStream.
The ResellerRatings Team
Nishan Sothilingam, CEO